South Africa's Former Apartheid president, FW de Klerk, who oversaw the end of apartheid, has died in Cape Town aged 85.
"Former President FW de Klerk died peacefully at his home in Fresnaye earlier this morning following his struggle against mesothelioma cancer," the FW de Klerk Foundation said in a statement.
De Klerk, who jointly won the Nobel peace prize with Nelson Mandela, leaves behind a complicated legacy in a country still scarred by the long lasting consequences of the white minority rule which he help usher out.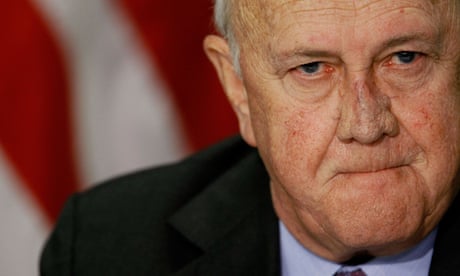 As well as ending apartheid de Klerk, who previously as a minister had helped uphold white minority rule, also help dismantled South Africa's nuclear weapons programme.
A lawyer, whose political inclinations were conservative, de Klerk was born into an influential Afrikaaner family serving in the white minority government of PW Botha as an MP in the National party.
While both many white South Africans and senior anti-apartheid figures – including Archbishop Desmond Tutu – believed de Klerk would continue with Botha's racist policies, de Klerk, concerned over growing racial violence, including ethnic violence between Xhosa and Zulus encouraged by the state, began moving against the apartheid system.
After becoming president in 1989, he allowed anti-apartheid protests and removed restrictions on some banned political parties.
The turning point would come, on 2 February 1990, five months after his election, when in a speech to parliament de Klerk announced that the ANC's imprisoned leader Nelson Mandela would be released from jail after 27 years. The announcement electrified a country that for decades had been scorned and sanctioned by much of the world for its brutal system of racial discrimination known as apartheid.
The speech marked the official end of segregation policies and the start of the negotiations that led to a constitutional democracy with equal rights for all South Africans.
Nine days later, in a historic moment that would reverberate around the globe, Mandela would walk free from Victor Verster prison although de Klerk would continue to head South Africa's white minority government until 1994, when Mandela's African National Congress party swept to power in national elections.
De Klerk's Legacy, however, remained contested throughout his life, not least over accusations of involvement in state sponsored atrocities committed on his watch, claims he always denied.
De Klerk's judgment on apartheid too was softer than many subsequently would have liked with many inside the country seeing him as a symbol for the failure of white South Africa to acknowledge the full horrors of the system and to bring perpetrators to justice.
That was underlined last year in controversy over a television interview in which he was seen to be quibbling over whether the crimes of apartheid should be seen as "crimes against humanity". He later expressed his regret for "the confusion, anger, and hurt" his remarks might have caused.
The FW de Klerk Foundation had announced his diagnosis with a cancer that affects the lining of the lungs in June this year.
The former president is survived by his wife, Elita, two children Susan and Jan, and several grandchildren. @guardian
---
DO YOU HAVE A NEWS STORY OR AN OPINION FOR CENTRAL NEWS: E-mail us : newsroom@centralnews.co.za or Whatsapp us on 083 398 9119